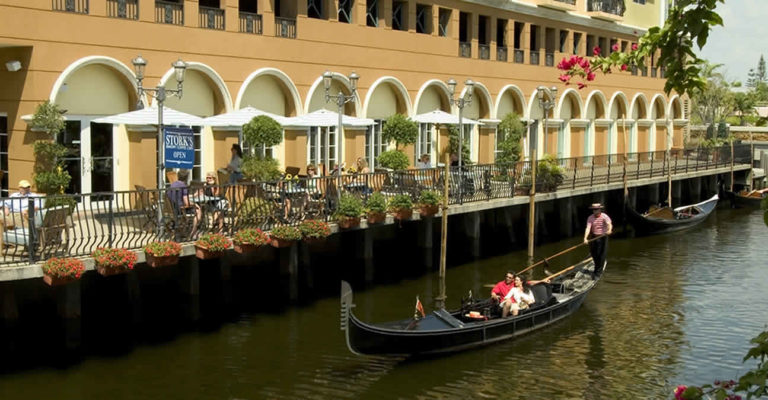 Venice of America
Considered by many to be the founder of Fort Lauderdale, Frank Stranahan moved to the settlement in 1893 and, like many other pioneers, made his home along the New River. The Stranahan House, the oldest surviving building in the county, still sits on the New River and today is open for tours. At the time, there weren't the miles of man-made canals that there are today. But because Stranahan managed the mail route for the region, he quickly gained notoriety after he created the first ferry service to cross the river.
Exploring the Waterways Today
Cruising down the canals is the ideal way to experience them. There are river cruises, water taxis and gondolas that will take you out on a tour where you can learn about the history of the New River and the offshoot canals that run through the neighborhoods, such as Tarpon Bend or Rio Vista. Aside from the New River, the canals are all man-made.
The tours travel along the canals of Fort Lauderdale and south in Hollywood to give their riders a fresh glimpse of their surroundings. From the the water vessels the riders will see mansions and yachts, and also be able to explore what each stop has to offer.
How the Other Half Lives
Something that you won't be able to miss when you're out on the water is Millionaire's Row, a stretch of waterside mansions of the rich and famous. While it's not exactly Miami's Star Island with celebrity dwellers, the rich who live here are the local business owners. There are 42,000 yachts registered in the greater Fort Lauderdale area. Looking out from your boat or east along Las Olas Boulevard you will see the never-ending rows of canals lined with yachts of all sizes parked alongside homes.
These miles of canals weave their way through both the downtown, and are also the backyards for many city residents. Families use the canals as secondary driveways to park their boats, which makes for a perfect day for water sports and for underwater adventures.
It's hard to imagine that just 100 years ago, Fort Lauderdale and surrounding communities were barely the maze of canals that they are today. And although the New River is no longer the main form of transportation for the residents, the river and its canals do still serve to bring a community together.